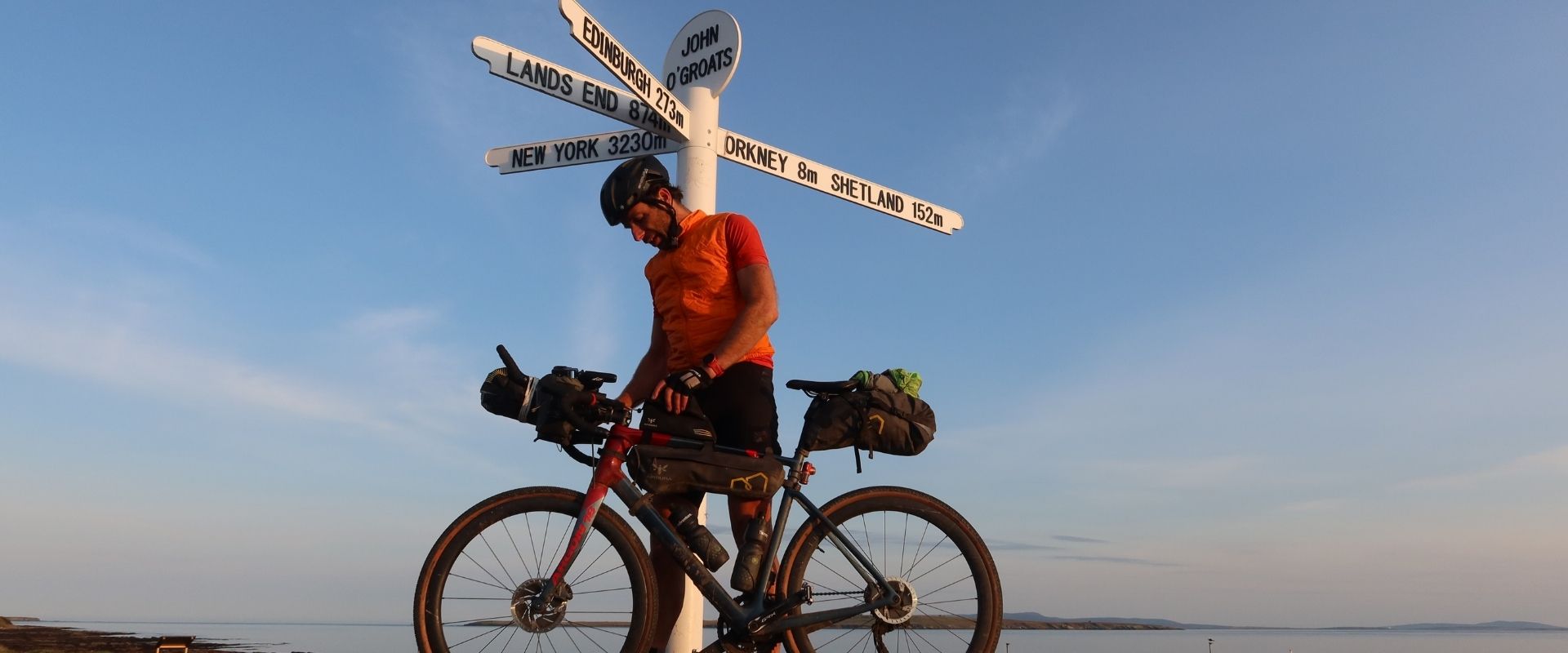 GBDURO. MARK BEAUMONT'S GRAVEL EPIC
Long distance record breaker Mark Beaumont was looking for a different challenge. Instead of an ultra-marathon road ride, he tackled the gravel GBDURO race. It's like riding Land's End to John O'Groats. But it's a race. And it's all off-road with only four stages – are you getting the idea?
The GBDURO is a multi-day, unsupported Land's End to John O'Groats endurance race, and – here's the kicker – the route is almost all off-road. It's a gravel 'LEJOG' as aficionados of Land's End to John O'Groats abbreviate that particular undertaking to. Given everything else about it is ultra-long, they might as well abbreviate the name, right?
In August 2021 Beaumont lined up at Land's End to tackle his first GBDURO, finishing 11 hours ahead of the second-placed rider. Edinburgh-based Beaumont took 135 hours and 24 minutes to complete the route. The erstwhile race leader Angus Young was disqualified for using a Dotwatcher's bike during the final 235 mile (380km) stage when the freehub on his bike gave up the ghost. Under the unsupported riding rules of the GBDURO, that's a no-no. "I spoke to Angus a few weeks after the event, to see if he was OK and he told me that he would have disqualified himself," said Beaumont, revealing the depth of camaraderie that exists between competitors. "I didn't win it, Angus lost it." Except that knowing the rules as the experienced Young did, he must have known what the likely outcome of his actions was and, as we'll see, decision-making in events like this are all part of the game.
Beaumont has set many impressive cycling records in his time, but he's not won that much. It's a paradoxical statement, but the Scot has never been too interested in competition. He's been responsible for an series of astonishing cycling firsts on different continents, certainly, but first places? Not so much.
Beaumont has – literally - ridden round the world from west to east in under 80 days, up and down, north to south, in the Americas and African continents, rode from Land's End to John O'Groats at the age of 15 and rode around the world faster than anyone else back in 2017 (having set an earlier record in 2010).
In 2021, Beaumont's big event was, in his terms, rather small. The GBDURO route was under 2,000km - but it was actually a race. By way of preparation, he rode a 'tandem' LEJOG – on road – doing an hour on and an hour off, swapping stints with James Lowsley-Williams. Leaving Land's End they reached the iconic white John O'Groats signpost just 39 hours and 40 minutes later...
This time, in the GBDURO, it wasn't just about completing an off-road challenge, it was about beating 59 other riders (out of 250 applications) to a finish line. "I think about half the starters had quit by the time we got to Manchester, not because they were physically incapable of going on, not because they had reached their physical limits, but because they were struggling with the mental side. There's an equation that you need to balance in events like this. On one hand there's your desire to complete the course, people want to do this but do they want to do it enough to overcome the challenges? I think lots of people love the idea, they want the outcome – but they're not fully prepared for the reality of what it takes."
And, in GBDURO, the reality for Beaumont involved riding for 35 hours straight on one stage. "I always tell people they should have a go, follow their dream idea. Of course they should shoot for the stars – but they should learn their trade first. You want to climb Everest? Great, but don't make it your first big climb. I got talking to someone on the race who had never ridden through the night before, which can be stressful if you're not used to it."
Ultra endurance riding and events are monumentally draining, both physically and mentally and, in Beaumont's case, the challenges he's undertaken are rarely completed in 24 hours – or even inside three weeks of a Grand Tour. There's a lot of time involved. Beaumont has always been attracted to the longer route, the ones you can settle into and get into a kind of groove. However, on this occasion Beaumont was competing against others, this was a race.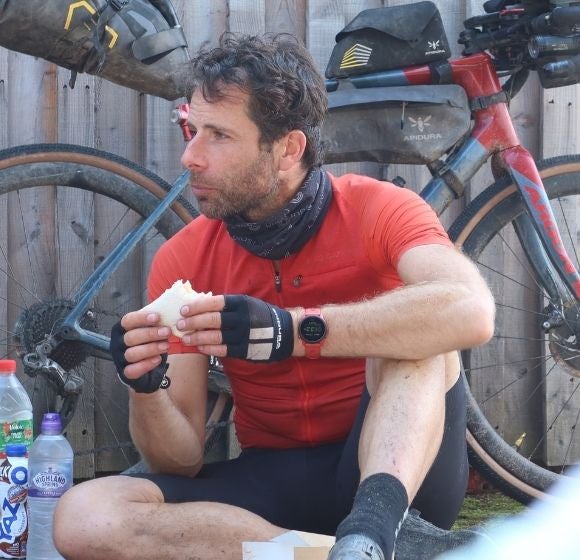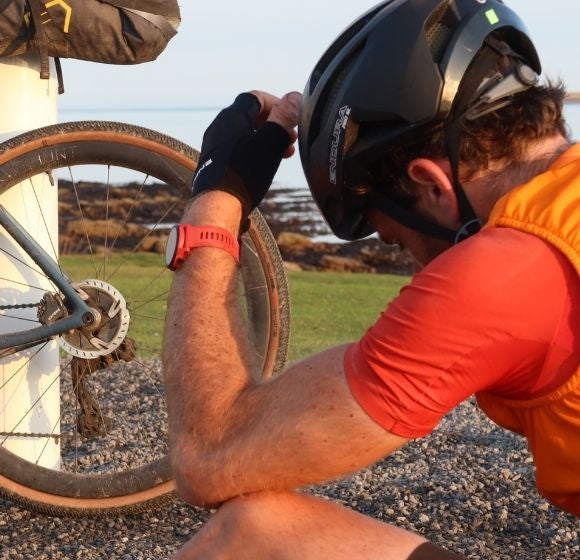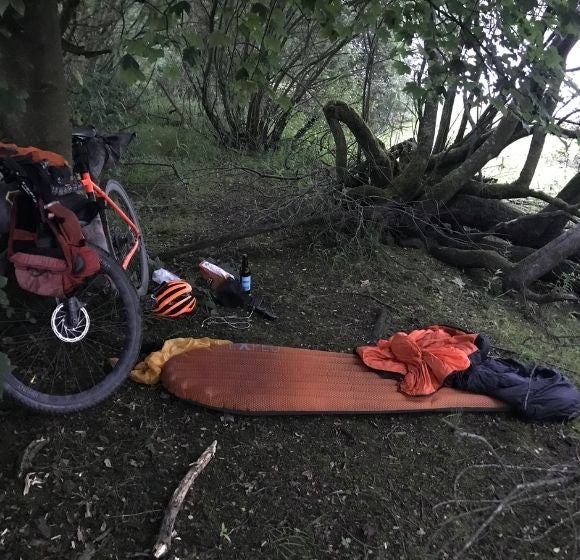 "Well, the clue was in the name of the organisation, wasn't it?" chuckles the Edinburgh-based 38 year old, "It's The Racing Collective - it is a competition though to be honest you are really only ever racing yourself, because you're not allowed to ride in a bunch or even take pace from anyone," explained Beaumont, "you spend a lot of time in your own head."
That means there are many, many hours to contemplate what you are engaged in. "I've done a few ultra-long distance challenges and where GBDURO was different was that there were stages and stops, where you could recover. What people often struggle with on some ultra events is the fact that you can't be certain when they will end. If you are cycling from one end of a continent to another, well, who knows? There were stages on GBDURO that were really, really hard, but you know, at a certain point, they're going to stop. The finish point might be over 24 hours away, but it's there, at some point it'll be over and you can get a chance to rest, eat and sleep before the next stage starts."
Riding an ultra race is not simply a test of machinery and muscle. As far as Beaumont is concerned, the mental aspect of such events is probably the most important. "I'm sure for some people the physical training is the most important element and obviously it is significant. Then competitors think about nutrition, which is up there too, but I'd say that the mental aspect is more important than either of them. You start an event like GBDURO and you really need to want and believe you can do it, that you are going to leave everything out there and see where you end up. But you also need to understand that there will be times when it will not be fun and again that's part of the mental aspect, you need to understand that sometimes it will not be fun – but those moments are not in and of themselves reasons to quit."
Imagine too, that you are sleep deprived, fatigued and over a hundred hours into the race when you arrive at the summit of a long, fast descent that you are tempted to fly down. "There are times when decision-making is crucial in events like this and, much as you might want to razz it down that hill, you have to stay safe and make it to the finish."
Beaumont has consistently made the right decisions in his expedition-adventure riding, there are always tricky choices to be made, down to travelling as light as possible. What do you pack on an unsupported race like GBDURO? "I had one set of Endura's GV500 kit, one pair of shorts and obviously they need to be right."
They must be knackered now though? Riding non-stop off-road in intermittently rank weather? You can steel yourself to endure just about anything a gravel epic throws at you, but uncomfortable or disintegrating shorts?
"Nah, I put them through the wash and rode in them again last weekend. They're fine."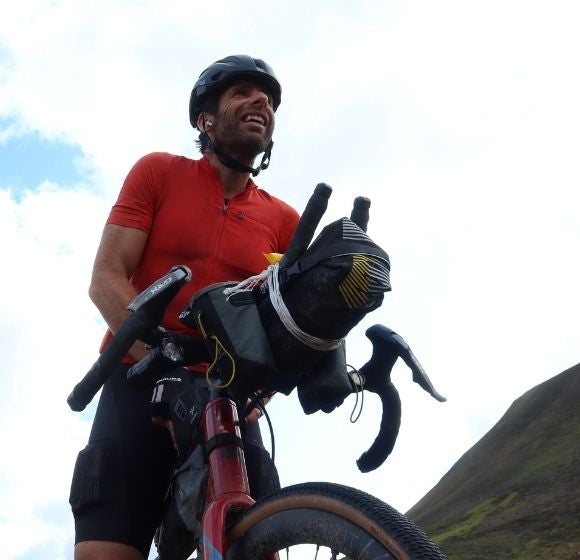 FOOTNOTES: Words: Kenny Pryde / Images:Markus Stitz / Location: Land's End, UK